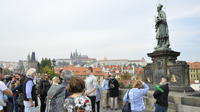 Tour 4 Charity in Prague. Tour 4 Charity is a new, revolutionary, award-winning tour concept- our goal being to provide the best walking-tour experience Prague can offer, while supporting the local Czech community and charity programs. We take you on a 3-hour walk through Prague's must-see attractions. Our top-rated guides describe the history, sights, and landmarks while aiming to make you laugh, smile, and wonder at the rich history and stories. 100% of tour proceeds are donated to the local charity «Chance 4 Children» (www.c4c.cz) for the betterment of orphans and pediatric patients across the country. We, as a company, and individual guides, assume all the risk. Each guide works strictly for tips, leaving you the ultimate judge of the tour's worth, ensuring that we will do our utmost to deliver the best, most satisfactory tour you've ever taken.
Categoría: Tours culturales y temáticos.
Inicio en: Praga, República Checa.
Duración: 3 to 3.5 hrs.
Precio: 15,50 euros.