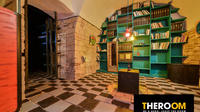 TheRoom Occultica: Largest Escape Game in Prague. Occult societies once had sophisticated recruitment. Adepts had to pass through mind breaking tasks to prove their skills. We reconstructed this initiation route. Expect mind provoking tasks, cool gadgets, lasers, atmosphere. No need to be afraid. Your task is to find hidden artifact and get out within 77 minutes.
Categoría: Pases y entradas para visitas turísticas.
Inicio en: Praga, República Checa.
Duración: 77 minutos.
Precio: 99,00 euros.