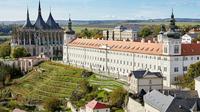 Kutna Hora Private Tour – a Day Trip from Prague. Kutná Hora, situated about 65 km from Prague, a medieval city that has origins from the first part of the 13th century. After Prague, it was the most important town in Bohemia, having become the most preferred temporary residence of several Czech kings and also a mint for the «Prague Penny» («Groš»).
Kutná Hora was declared a world heritage site, and since 1995 it has been protected by UNESCO. As a guide, I will show you the most important buildings and places – the St. Barbora's Cathedral, the Ossuary (Bone House), and the Italian Court.
Categoría: Tours privados y personalizados.
Inicio en: Praga, República Checa.
Duración: 6 horas.
Precio: 450,00 euros.