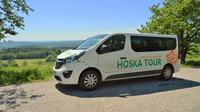 Sightseeing transfer from Prague to Giant Mountains. Easy transfer from Prague to Czech highest mountains (or from Giant mountains to Prague) with a long break for walking in Bohemian Paradise UNESCO Geopark. Our detailed route description will lead you through the rock city and many viewpoints. Possible to arrange a break in other places along the road. For car fans in Skoda car museum. The Austria-Hungary atmosphere in a sugar refinery museum.
Categoría: Escapadas y excursiones de un día.
Inicio en: Praga, República Checa.
Duración: 5 horas 30 minutos.
Precio: 239,00 euros.