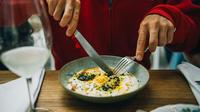 Prague Food by Foot Walking Tour with Food-loving local guide. Many guidebooks speak solely of Prague's hearty, carnivorous, traditional fare, relaying only outdated information of our city's bursting food scene. We're here to show you otherwise. Step outside the city center and get to know Prague the best way we can think of: through your belly. We'll taste everything from traditional to inventive, including a Michelin Bib Gourmand honouree.
Categoría: Gastronomía, vino y vida nocturna.
Inicio en: Praga, República Checa.
Duración: 4 to 5 hrs.
Precio: 89,00 euros.