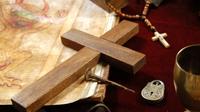 Escape Game in Prague: Legend of Devil's Bible. Small groups of 2-6 players are physically locked-up in the room. Find clues and objects, open locks, solve series of puzzles and break mystery codes to break free in 60 minutes. During this one hour team players breathe like one – as only the cooperation is the way to freedom.
Categoría: Tours y visitas turísticas.
Inicio en: Praga, República Checa.
Duración: 60 minutos.
Precio: 59,00 euros.