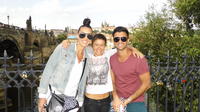 6 hours Prague Honeymoon Private tour by car. GLORIOUS medieval marvel of PRAGUE. Cosy and relaxed, laid-back and easy to get around. Prague is one of the most popular honeymoon destinations in Central Europe and the easiest to get to. 
Prague beats as the heart of the Czech Republic with ancient roots deeply planted in the region of Bohemia. While lovers may stand in the shadow of 9th-century Prague Castle before ambling between smatterings of medieval architecture. In fact, despite the myriad of cobbled lanes aside the swan-flocked Vltava River, Prague is just as much a modern center for arts, food, and entertainment. History buffs and world travelers alike will agree that a honeymoon spent in Prague awakens your senses and your soul from one castle, cathedral, and pub crawl to the next.
Categoría: Bodas y lunas de miel.
Inicio en: Praga, República Checa.
Duración: 6 horas.
Precio: 338,00 euros.