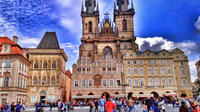 Prague Architecture Private Walking Tour. Get off the beaten track and become an amateur expert in historical architecture. Have you ever looked at a beautiful historical building and wondered in what architecture style it is built in? Find out what characteristics make a building Gothic, Renaissance, or Baroque in an simple, fun way. Explore Prague through its most visible historical monuments, its fascinating historical buildings, that come in a dazzling array of architectural styles. Choose between a 3- or 5-hour tour with an English-speaking guide.
Categoría: Tours y visitas turísticas.
Inicio en: Praga, República Checa.
Duración: 3 horas.
Precio: 45,00 euros.