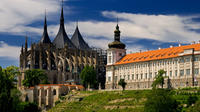 6-Hour Private Guided Tour to Kutná Hora from Prague. 
In the Middle Ages Kutna Hora was the second most important town in the Bohemian kingdom after Prague, due to its huge resources of silver. This private tour comprises St.Barbara Cathedral, an impressive example of 14th-century gothic architecture, the Royal Mint, where the production of the world-famous Prague's Grossus took place, and the Bone Church, whose interior is made out of human bones! Visit these landmarks with our private guide and feel the atmosphere of the medieval mine, all of which is part of Unesco World Heritage site.
Categoría: Tours privados y personalizados.
Inicio en: Kutna Hora, Czech Republic.
Duración: 6 horas.
Precio: 53,00 euros.