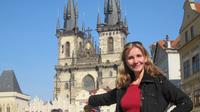 Welcome to Prague – short, but intense PRIVATE TOUR. If you do not like the long tours, but rather just meet a friendly local guide and get an intensive tour. This tour is for you!
In 90 minutes you will get a basic orientation and a precious «WELCOME TO PRAGUE» information. You will learn about the most famous sights, learn some Czech history and how to distinguish between styles of architecture.
You can not expect to see all the details of Prague. But at the end you will get helpful ideas from our guide how to complete your Prague sightseeing experience on your own. Tricks how to avoid lines, tourist traps warning, info about local restaurants etc. Get replies to your questions, learn the background for your independent sightseeing later.
Categoría: Tours privados y personalizados.
Inicio en: Praga, República Checa.
Duración: 90 minutos.
Precio: 15,00 euros.