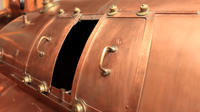 Staropramen Brewery Tour with Dinner In Prague. Since the beginning of the 20th century there was a brewery in nearly every street in Prague, so that a German guide book of 1750, was not exaggerating when it suggested that "the foremost livelihood of the Prague inhabitants, is really the brewing of beer". We divulge the secret of the centuries-old tradition of beer production during a visit to the Staropramen brewery, Prague's most famous brewery. Then visit one of Prague's best pubs, where you can enjoy a friendly atmosphere, really great typical czech food and beer. And one important bit of advice for you: for a healthy soul and a healthy body it is very important to regularly drink Czech beer!
Categoría: Gastronomía, vino y vida nocturna.
Inicio en: Praga, República Checa.
Duración: 3 horas 30 minutos.
Precio: 40,00 euros.