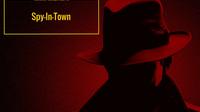 Spy-In-Town Outdoor Escape Game in Prague. Outdoor Escape Game Spy-In-Town for the lovers of Escape Games who wants to have some physical activity, explore downtown Prague and especially have fun.  SpyInTown is a live, puzzle-oriented entertainment walk through the city. The idea is based on Real-Life Escape Game, but it is happening in outdoor setting. Work with your teammates to explore the downtown area, find hidden clues and solve puzzles. You have only 120 minutes to find the final answer and solve the story.
People of all ages and skill sets are welcome, especially those who enjoy puzzles! Imagine that you are playing in center of the city this Spy based Real-Life Escape Game. We are sure the Real-Life Escape Game is a great mental challenge. This specific game will require lots of movement (you will cover at least 5km) as you explore the centre of the town.
Categoría: Pases y entradas para visitas turísticas.
Inicio en: Praga, República Checa.
Duración: 2 horas.
Precio: 40,00 euros.