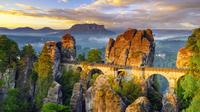 Small-Group Saxon Switzerland NP Easy Tour & Unlimited Thermal Baths. 
Would you like the opportunity to explore some of the natural wonders the Saxon Switzerland NP has to offer, all in one day?? Well with Bohemia Adventures not only is it possible BUT this tour is also ACCESSIBLE TO EVERYONE!! 
Come with us and explore the main highlight of Saxon Switzerland in Germany – Bastei. Enjoy incredible views and history with very little walking needed. Have a delicious lunch in a local German restaurant and then at the Thermal baths relax whilst you float between 5 majestic thermal baths surrounded by lights and music. Immerse yourself in the warm thermal saltwater and feel it soothe the coldness of winter away. Anything is possible with the most natural cure in the world. 
Categoría: Visitas a spas.
Inicio en: Hřensko, Czech Republic.
Duración: 9 to 10 hrs.
Precio: 100,00 euros.