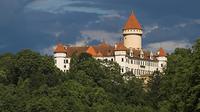 Private Tour: Konopiste Castle Tour from Prague. This 5-hour private half-day trip from Prague will take you to Konopiste Chateau, one of the major sights in the neighborhood of Prague. Originally a Gothic Castle in French style, founded afound 1300, it was re-built in the first half of the 16th century into a chateau. After 1889 it became seat of Franz Ferdinand d´Este, the Hapsburg Crown Prince, who had Konopiste modified to its present appearance.
Categoría: Escapadas y excursiones de un día.
Inicio en: Praga, República Checa.
Duración: 5 horas.
Precio: 85,00 euros.