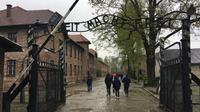 Private Tour from Prague to Auschwitz-Birkenau Memorial and Krakow. We will depart from Prague at 5am on this private tour tour to see as much as possible within one day. Approximately at 10am we arrive to Auschwitz Museum where you will have 2 hour tour through the former largest Nazi concentration and extermination camp. Then we will transfer to Auschwitz II – Birkenau where the tour continues for approximately 1 hour. In the afternoon we will take you to see the former royal Capital of Poland, the historical Krakow. There we will visit the Castle hill with the Cathedral, the Old Town Square and the Jewish Quarter Kazimierz. The Tour of Krakow is a combination of walking and driven tour, we will take you to the places connected with World War II, such as the Schindler's factory. We will return to Prague after midnight with memories which will stay with us forever.
Categoría: Tours privados y personalizados.
Inicio en: Praga, República Checa.
Duración: 18 horas.
Precio: 230,00 euros.