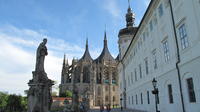 Private Kutna Hora tour incl transport and guide. Enjoy a half-day trip from Prague to the medieval Kutná Hora. Walk through the city center which is preserved as the UNESCO heritage site, visit the Bone chapel and the St. Barbara cathedral. In the medieval times Kutna Hora was the second most important town in Bohemia as there were rich silver mines. You can admire the Gothic structures, your private guide will show you and explain everything.
Categoría: Escapadas y excursiones de un día.
Inicio en: Praga, República Checa.
Duración: 5 horas.
Precio: 95,00 euros.