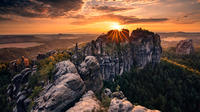 Private Day Tour for BIG GROUP – THE BEST of 2 Countries:Bohemian Switzerland NP. Maximise your time in the Czech Republic with a private guide, a driver at your disposal, and a full-day tour custom-made for you! We offer luxury Mercedes Benz Sprinter Minvan up to 20 people.

You will be guided to the very best spots only 2 hrs drive from Prague such as Pravcicka Gate, Bastei Bridge in Germany, and cruise along the Kamenice Goerge. It is an easy walking tour with beautiful views. Experience the local cuisine, enjoy walks in the most preserved part if the National park and take dozens of pictures while exploring our natural heritage. Lunch, snacks and all entrance fees are included.
Categoría: Tours privados y personalizados.
Inicio en: Praga, República Checa.
Duración: 10 to 12 hrs.
Precio: 2.235,00 euros.