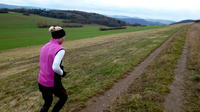 Prague to Karlstejn Trail Running Tour. What can be better than running from one UNESCO site to another? Karlštejn Castle is one of the best and most visited medieval castles in Central Europe.
We will start in the suburban area of Prague from where we will hit the trail that will lead us through the rural area of Central Bohemia, so you will enjoy not only Prague but the countryside, too. The run will take us through forests and fields, picturesque villages and at the end, we will reach the castle and the village beneath. As a refreshment, there is an option to get some famous Czech beer here
This running tour is a bit more difficult, as it is 17km long with some hills, and you'll run on all the running surfaces you can imagine.
We will catch a local train on our way back (25 mins ride only), so you will have an ultimate Czech experience.
Categoría: Actividades al aire libre.
Inicio en: Praga, República Checa.
Duración: 3 horas.
Precio: 77,00 euros.