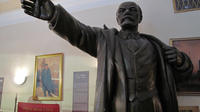 Prague Communism tour with included Communism museum. 
The totalitarian regime Communism was the political official system of the Czechoslovak republic in 1948-1989. On this tour you will learn not only about the major political events in the 20th century but also about the everyday life behind the Iron Curtain. The tour begins in the Museum of Communism, ticket included, and then you will continue to discover the important places in Prague city center where the events happened. 
Categoría: Escapadas y excursiones de un día.
Inicio en: Praga, República Checa.
Duración: 3 horas.
Precio: 60,00 euros.