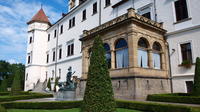 Konopiste Castle Private Tour from Prague. Thirty years before his assassination in Sarajevo, Crown Prince Franz Ferdinand bought the ancient Konopiste Castle, whose roots go as far back as the 13th century, and turned it into an extravagant residence worthy of a man in his position. The interiors of the castle serve as a reminder of the fascinating life of Franz Ferdinand, one of the wealthiest men of his era and a passionate hunter, and his beautiful wife Sophia Chotek, a Czech countess who proved that love can overcome an unequal beginning. Konopiste Castle offers an insight into the lifestyle of Europe's nobility, as well as the opportunity to view an extraordinary collection of hunting trophies, art and weapons.
The entrance fees to the castle including a local guide are not included. The full price is 150CZK (approx EUR 5.50 per person.)
Please note that Konopiště Castle is closed on Monday!
Categoría: Tours y visitas turísticas.
Inicio en: Praga, República Checa.
Duración: 4 horas.
Precio: 45,00 euros.