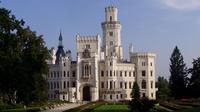 Hluboka Castle and Holasovice and Cesky Krumlov Overnight Tour From Prague. Visit the sites inscribed on the UNESCO Heritage List on which the Czech Republic has 12 sites in total. Explore Holašovice and Český Krumlov. The town of Písek and its oldest stone bridge in the Central Europe, the most beautiful castle in the Czech Republic, you will be accommodated in Pension and you will see a true architectural gem – Český Krumlov.

At Czech monuments there are professional guides provided by the monument administration for the best experience.
For the road you can choose between two options:
Private excursion with a buddy ("guide") and local guides at monuments.
On the way, you will be able to ask your buddy about anything you are interested in.
Private excursion with the written description and local guides at monuments.
Written description will provide basic information about the trip, sights and history of the country.
Categoría: Tours de varios días y más largos.
Inicio en: Praga, República Checa.
Duración: 2 días.
Precio: 291,00 euros.