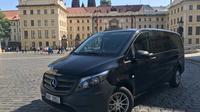 Cesky Krumlov Private Day Trip from Prague for up to 8 people. 
Private Excursion – Excellent Full Day Trip from Prague . This picturesque historical town in southern Bohemia, tinged with romance, has been, not unjustifiably, the second most visited in the Czech Republic. It is also a UNESCO World Heritage Site, with over three hundred buildings in the historical centre that enjoy this protected status. Among the best attractions to visit are: the castle, the famous Hall of Masks, the unique Baroque theatre, the chateau garden with a Rococo fountain, Barber's Bridge, Alchemists' Homes, Eggenberg Brewery, Crafts Museum, and the wooden river rafts. The city caters to visitors all year round, and can easily be visited at any time of the year (though in the winter months the castle is closed).
Categoría: Escapadas y excursiones de un día.
Inicio en: Praga, República Checa.
Duración: 9.00 to 11.00 hrs.
Precio: 395,00 euros.