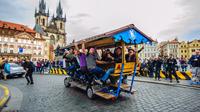 Beer Bike Tour All you Can Drink in Prague's Historic Old Town up to 17 People. (Booking for 1 Traveller is good for up to 17 people on a bike) You and up to 16 of your closest friends can come roll through the streets on Drunken Monkey Beer Bike enjoying premium Czech beer while seeing the most beautiful city in the world. We offer world class drunken monkey service with unlimited beer served by our sexy drunken monkey bartenders as you enjoy Prague's amazing sights. Play your own music or let your bartender DJ so you can focus on the beautiful sights and delicious beer.
Categoría: Excursiones a pie y en bicicleta.
Inicio en: Praga, República Checa.
Duración: 2 horas.
Precio: 399,00 euros.