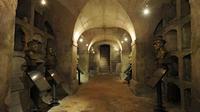 Anthropoid Tour – World War II in Prague. The bloody terror, introduced to the Protectorate of Bohemia and Moravia in early autumn 1941 by Acting Reich Protector SS-Obergruppenfuhrer Reinhard Heydrich, was responded among representatives of the Czechoslovak foreign resistence in London with the decision to prepare the assassination.At the very end of 1941, a group called ANTHROPOID was parachuted to the Protectorate with a task to liquidate Heydrich. On May 27,1942,Czechoslovak paratroopers, Jan Kubis and Josef Gabcik, completed this most significant act of resistence, performed during World War II. They wiped from the World not only the hated killer of the Czech nation, but also a man, who fulfilled the most freakish project in human history, the man who was an architect of the Holocaust.
Categoría: Tours privados y personalizados.
Inicio en: Praga, República Checa.
Duración: 5 horas.
Precio: 50,00 euros.