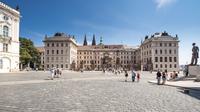 3-hour Private Prague Castle Walking Tour. 
During this 3-hour excursion your private guide will take you through the largest castle complex in the world! A medieval fortress, a town within a town, and St. Vitus Cathedral (where 26 kings of Bohemia were crowned) are just some of the highlights that you will see. Gaze in awe at the Old Royal Palace with the amazing Wladislav Hall, Basilica of St.George, Golden Lane and Daliborka tower, which served throughout the middle ages as a dungeon and torture chamber.
Categoría: Tours privados y personalizados.
Inicio en: , Czech Republic.
Duración: 3 horas.
Precio: 25,00 euros.