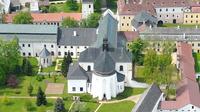 2 days trip from Prague to UNESCO Heritage Kutna Hora Zdar nad Sazavou Litomysl. You will get to know the part of the World Heritage UNESCO, the historical part of Kutná Hora, the cathedrals in Sedlec and Kutná Hora, unique ossuary in Sedlec. You will visit the pilgrimage site in Zelená Hora and see the castle in Žďár nad Sázavou, the chateau in Litomyšl and the city Hradec Králové.
At Czech monuments there are professional guides provided by the monument administration for the best experience.
For the road you can choose between two options:
Private excursion with a buddy ("guide") and local guides at monuments.
On the way, you will be able to ask your buddy about anything you are interested in.
Private excursion with the "written" description and local guides at monuments.
Written description will provide basic information about the trip, sights, and history of the country.
Categoría: Escapadas y excursiones de un día.
Inicio en: Praga, República Checa.
Duración: 2 días.
Precio: 372,00 euros.